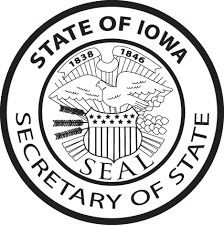 By: Donovan W. Mann – donovanm@977thebolt.com
Des Moines, IA – National Voter Registration Month is coming to a close but Iowa's Secretary of State will continue to encourage those eligible to register.
All September has been recognized as the nation's voter registration month of recognition. Secretary Paul Pate has been celebrating the month by encouraging all Iowans who are eligible to register to vote in the General Election this November.
Secretary Pate says that "as we get closer to Election Day, it's important for all Iowans who want to take part in the process to make that they are registered to vote and their information is up-to-date." He says that the process only takes a couple of minutes and encouraged all Iowan's to be a voter in this and future elections.
National Voter Registration Month was established by the National Association of Secretaries of State (NASS) in 2002. It is a non-partisan means of encouraging voter participation and increasing awareness about state requirements and deadlines for voting.
To register to vote in the state of Iowa an individual must be at least 17 years of age. The deadline to pre-register before the 2020 general election is Saturday, Oct. 24.
For more information about registering to vote in Iowa and voter information and resources is available at VoterReady.Iowa.gov.