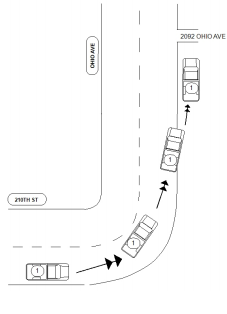 By: Donovan W. Mann – donovanm@977thebolt.com
Humboldt County, IA – No injuries reported following a vehicle leaving the road way and ending up in a ditch early Saturday morning.
Deputy Tim Fisher of the Humboldt County Sheriff's Office reports on the single car incident. His report states that on Saturday, Sept. 26, Matthew Lenning, 21, of Humboldt was east bound on 210th street approaching a left turn on to Ohio Avenue. After he negotiated the turn he left the road way and entered the east ditch. The action resulted in Lenning's blue Dodge Ram 1500 to run onto its passenger side and come to a rest facing the north. The driver reported to the responding deputy that the incident had occurred three to four hours before law enforcement was notified.
The incident resulted in disabling damages to the Ram 1500 that was towed away from the scene. No injuries were reported by Deputy Fisher at the time of the incident.