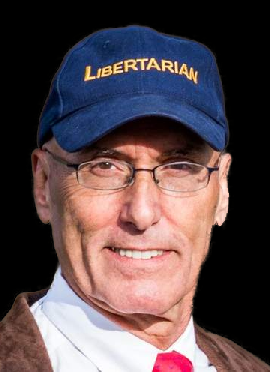 By: Donovan W. Mann – donovanm@977thebolt.com
Humboldt, IA – A candidate for the open Iowa seat in the U.S. Senate wants the public to know there are more than two options.
As the state of Iowa continues to hear about Republican Senator Joni Ernst and Democratic Challenger Theresa Greenfield a third candidate is making their bid known. Libertarian Rick Stewart is encouraging Iowans cast their vote for him this coming election. He talks about why he believes he is the best option for the open senate seat.
Stewart is a born and bred Iowan at his core. He is a native Iowan who was born in Postville and raised in Maquoketa. Currently living in Cedar Rapids, the libertarian is a well-traveled. While he's journeyed to places like Spain, China and the Middle East Stewarts says he's "always been an Iowan." The senate candidate says he's an "ex-hippy turned capitalist that still believes that the world can be a much better place if we practice love rather than hate."
The libertarian says his philosophy on government boils down to three main points.
"There's three big ones in my platform" he says. The first is anti-war. He says he wants to end all foreign wars, the war on drugs, the tariff wars and the war on poverty. His second point is End all economic nonsense, starting with balancing the federal budget and paying off the national debt. His third stance is simplifying government and he promises that if he were elected he would not vote on any law that was longer than five pages. Stewarts says "we should be able to read every law for our self" so it can be easily understood and approved without clutter.
Rick Stewart says that he believes Iowa is libertarian at heart and believes Iowa should vote for him to go to the senate. "I will be, arguably, the most important person in the United State Senate" he says. The candidate says he won't caucus with either of the country's two primary parties. "I am going to be an independent voice of reason who will not attempt to convince you that the other 99 senators are personifications of the devil." Stewart says he will work to convince Iowans that the debates in the senate are good and about real issues without antagonistic thoughts towards others.
Libertarian Rick Stewart is running for U.S. Senate during the 2020 election. To hear his full statements on his background, his political beliefs and why he thinks he is the right candidate go to 977thebolt.com under the news story "A third candidate for U.S. senate seeks Iowa's vote." Additional details on the candidate can be found at rickstewart.com.
This is an informational story. KHBT does not endorse Rick Stewart for U.S. Senate.
Featured photo courtesy of rickstewart.com