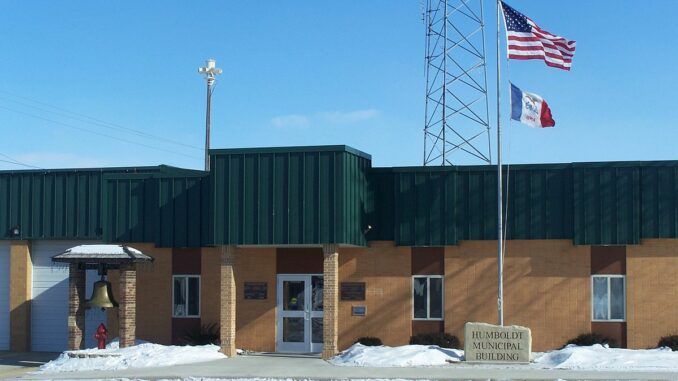 By: Donovan W. Mann – donovanm@977thebolt.com
Humboldt, IA – The City of Humboldt and Humboldt Community School District are trying to get the traffic signals at the intersection near the high school changed.
During the most recent meeting of the City Council for Humboldt they were presented a letter to submit to the Iowa Department of Transportation. The letter was drafted by City Administrator Travis Goedken for the purpose to request a change at the intersection of Highway 169 and Wildcats Road.
The city and high school are looking to add four LED, solar powered stop signs to the intersection. The current arrangement has four stop signs with a single red flashing beacon strung up above the center of the intersection. The city and school officials agree this does not serve its purpose because there have been many near miss incidents throughout the history of the intersection.
Goedken says that the Humboldt's Mayor Dan Scholl has contacted Iowa State Senator Tim Kraayenbrink and Representative Mike Sexton. In response Senator Kraayenbrink reached out to the liaison for the DOT in the senate. Goedken says some "additional consideration" is being made. Part of these conversations has been comparing this intersection in Humboldt to similar intersections in places like Algona and Jefferson.
This intersection has been an ongoing battle with the DOT and Humboldt. Letters to request a change at this intersection has been sent in multiple times by the city as well as the school district. Goedken says the all get the same "analytical" response that the intersection doesn't meet the state qualification because it is below the state average in traffic incidents.
The city administrator says there seems to be some traction in the process this and that the city will be sending the letter for request. Letters of support will also be sent in by the schools and local businesses near the intersection supporting the claim of the current traffic control set up does not do the job.
Council approved the letter to be sent out to the Iowa Department of Transportation as drafted by the city staff.