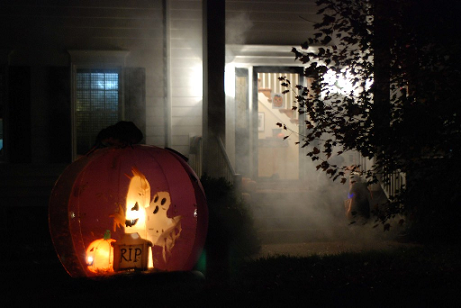 By: Donovan W. Mann – donovanm@977thebolt.com
Humboldt, IA – Public Health is encouraging communities to celebrate Halloween responsibly this year in the wake of the ongoing pandemic.
As the local communities prepare to celebrate Halloween this year the local and state Public Health departments want to remind that that COVID-19 is still circulating. Many of the traditional Halloween activities can be considered high-risk when it comes to spreading he virus. For the 2020 holiday public health encouraged Iowans to follow the CDC's guidance when making decision on how they choose to celebrate this Oct. 31.
Humboldt County Memorial Hospital's Director of Community Development Mardi Ratzlaff shares this guidance with KHBT. This includes activities that are considered lower, moderate and high risk.
Some low risk activities include: carving or decorating pumpkins with members in the same household or at a safe distance with neighbors or friends in an outdoor setting. Decorating a living space is also a low risk activity. The CDC and IDPH also encourage virtual costume contests as a fun activity with low risk.
Some moderate risk activities include participating in a one-way-trick-or-treat by placing out individually wrapped goodie bags lined up for an easy grab and go. Attending costume parties where masks are used and social distancing is observed is also considered "moderate risk."
High risk activities include a traditional trick-or-treat and trunk-or-treat evening. Attending an indoor and crowded costume party is also not recommended by public health. They also recommended that people not attend fall festivals and activities outside of their own community.
The Iowa Department of Public Health and Humboldt County Public Health remind everyone to not attend any activities if they have been exposed to the virus. They wish everyone a safe and happy Halloween.