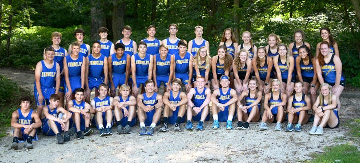 By: Donovan W. Mann – donovanm@977thebolt.com
Estherville, IA – Humboldt High School cross country performs well as they grab a couple of top two finishes during the Estherville-Lincoln Central Invitiational.
On Thursday, Oct. 1, Humboldt cross country traveled to Estherville for the meet. This was a makeup meet from earlier this season that was delayed due to weather.
The Humboldt boys varsity team placed first as a team with a score of 31. Their top runner in Quinton Orr did not run but three Wildcat runners finished in the top three positions of the meet led by Eric Wittrock with a time of 17:51. Trevor Jacobson finished second and Nolan Jergens third for Humboldt.
Here is how the Humboldt boys placed individually:

The Humboldt girls varsity team placed second as a team during the meet with a team score of 55. The team was led by Joslyn Orr who finished fifth overall with a time of 22:44. Kali Beaman also finished in the top ten with a ninth place finish.
Here is how the Humboldt girls placed individually:

Humboldt next cross country meet will be Tuesday, Oct. 6. The meet will be hosted by Eagle Grove at the Eagle Grove Golf Course. The meet is expected to begin around 4:30 pm.