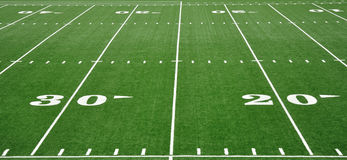 By: Donovan W. Mann – donovanm@977thebolt.com
Mason City, IA – Humboldt High School football travels to face Mason City in a back and forth game between to competitive teams.
On Friday, Oct. 2, Humboldt Wildcat football faced the Mason City Mohawks on the road. It was a 21-14 win for Humboldt as the the two teams traded the lead a couple of times.
A large story from this game was the back and forth momentum swings between the two teams. The first quarter was mainly Humboldt who would find a quick 7-0 lead. Mason City's best drive in the quarter would take them down the field before a fumble resulted in a turnover. The second quarter was all Mason City who found the endzone twice and tooke a 14-7 lead into the half. After both teams were scoreless in the third quarter Humboldt found two touchdowns include a very powerful three yard outside run by Caden Matson who had to fight through defenders to give the Wildcats the lead. A game winning interception by Will Orness secured the night for the road team.
For Humboldt another big store was the return of a couple of key players. With no offensive stats Orness made his presences felt defensively with the one interception and multiple pass breakups. Humboldt also got their starting Left Tackle Ben Kuehnast back and Colton Goodell got his first bit of action at right tackle for 2020 and made an impact as well.
Quarterback Caden Matson led the way for Humboldt once again offensively. On 13 for 20 passing Matson picked up 174 yard and on the ground he ran the ball 27 times and picked up 134 yards and all of Humboldt touchdowns (three). As a team Humboldt forced four Mohawk turnovers.
A final stat report for the game against Mason City can be found on Varsity Bound.
Humboldt football's record is now 4-2 on the season and secures them a winning record for the 2020 regular season. They are 2-2 in the Class 3A District 2. The next and final regular season game for Humboldt will be on Friday, Oct. 9, at home against Gilbert.