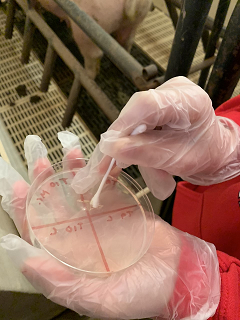 By: Donovan W. Mann – donovanm@977thebolt.com
Des Moines, IA – The Iowa Agriculture Literacy Foundation is announcing the renewal of a partnership in hopes to advance student led research in the pork industry.
Announced via a release the foundation announces the second year of a program with the Iowa Pork Producers Association. The program is designed to encourage more students to get involved in swine and pork since research. Iowa students who complete and conduct a science experiment that is related to pork production will be eligible to receive a $200 scholarship.
This scholarship can be used for a few different things including purchasing supplies for their experiment or presentation of their project. The funds can also be used towards the travel expenses for the upcoming science fairs and symposiums.
More information about this opportunity or other education activities can contact the Iowa Agriculture Literacy Foundation at info@iowaagliteracy.org. Students who are interested in this opportunity are encouraged to begin the application process at form.jotform.com/IowaAgLiteracyFoundation/science-pork-2021.
Featured photo courtesy of the Iowa Agriculture Literacy Foundation.