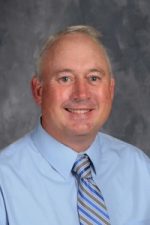 By: Donovan W. Mann – donovanm@977thebolt.com
Humboldt, IA – Humboldt and Twin Rivers Schools superintendent of schools is focusing on his professional goals as he continues into his first year in the position.
In his first year at the helm of the local schools Superintendent Jim Murray has made his beliefs and ideals clear on how he believes the schools should be run. He has always had an open door policy and welcomes community participation and knows the best way to serve the schools is transparency. This is reflected in his professional goals as the superintendent.
Murray says that the school board did help provide him some direction on where his goals should be. He says that board gave him this direction during a workshop during the first weeks of school. The board encouraged the superintendent on where they would like to see him put his goals and priorities for the school year. The ultimate goal is to "build relationships." He says "that's what we want to do for sure is make sure we have strong relationships with our community and parents."
Based on the direction he was given the superintendent created three professional goals for himself. The first is to "communicate effectively with all stake holders." Murray says that they are working hard to improve the communication that goes out to the parents and community. The second goal is to "focus the decisions on the resources on the best interest of student." He says that students come first in the district and wants to make sure they always have their best interest in mind. The final goal is "provide a safe and supportive and positive school climate for student." He says "even during COVID times we can do our best to provide that social-emotional support that students need."
Superintendent Jim Murray finishes by voicing his appreciation for the school board member. "I just continually appreciate the support of our school board members" Murray says. "They are very dedicated to doing what's best for students in this district." He says they've been involved with all the work the district has done to prepare for the return to learn this fall and always supportive of the schools administrative staff.
Murray concludes by saying he's "really appreciative" of the school board members and gives, like he always says, "go Wildcats."