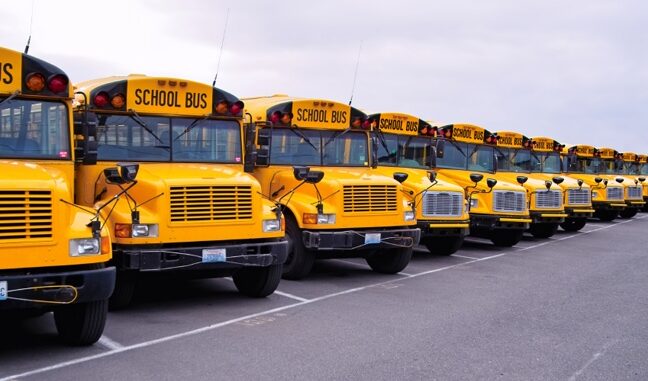 By: Donovan W. Mann – donovanm@977thebolt.com
Humboldt, IA – The local schools Director of Transportation is encouraging the community to practice safe driving when driving around school buses.
Oct. 19-23 is National School Bus Safety Week. While the week is designated for the cause it is always important to remember to drive safe around the vehicles carrying children of all ages. The Director of Transportation for Humboldt and Twin Rivers Schools Leo Reigelsberger talks about school bus safety with KHBT.
He reminds the community about the school buses warning signals. When a bus is preparing to stop yellow flashing light will begin to go off "plenty in advance." Reigelsberger says that once those yellow lights start flashing then surrounding drivers need to slow down to about 25 mile per hour. He says once the red lights come on and the stop sign comes out "you need to stop for that bus." This is because kids will begin to either enter or exit the school bus and be exposed for a time.
The director of transportation reminds the community exactly what is on those large yellow vehicles. "So any time you see a yellow school bus you know, believe it or not, they're hauling the most precious cargo you can have on the roads." He says drivers on the highway need to be extra vigilant and looking for the students waiting for and getting on their bus. "If you see a driveway where the bus might be coming to a stop, slow down cause their going to be stopping here shortly."
Schools Resources Officer with the Humboldt Police Department Susan Rutz echoes the importance of obeying school bus traffic signals. "Those laws are designed to protect our kids" she says. "That's exactly what our goal is in the community is to make sure that our kids are safe getting on and off the bus." That safety is from the curb all the way until the getting in their seat on the bus. Officer Rutz says that it's "super important" for community drivers to obey those school bus stop signs and stay stopped the whole time the sign is out. "We want to make sure that all our kids get to school and get home."
Iowa law requires drivers going both directions to stop on a two or three lane highway whenever the buses stop sign is shown. Unlawful passing of a school bus is considered a misdemeanor. First time offenders could pay up to a $675 dollar fine. Additional offenses are considered a serious misdemeanor and carry a find up to $1,875. Prison time may also be applied for offenders and license suspensions will occur as well.
The Humboldt and Twin Rivers Schools as well as local law enforcement want to remind the community the importance of obeying school bus traffic signals. Cooperation is about the safety of the children in the community.