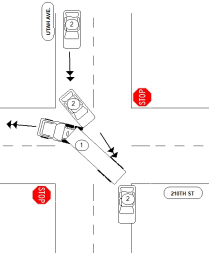 By: Donovan W. Mann – donovanm@977thebolt.com
Lake, IA – No injuries reported after a sedan has to swerve in an attempt to avoid a collision with a semi-truck Monday afternoon.
Deputy Tim Fisher of the Humboldt County Sheriff's Office reports on the two vehicle incident. His report says that on Monday, Sept. 28, Dennis Vandewater, 67, of Eagle Grove was northbound in his semi-truck approaching the intersection with 210th street as Carol Bruhnke was southbound approaching the same intersection. Vandewater began to turn left at the intersection, not seeing the silver Nissan Altima piloted by Bruhnke who attempted to avoid the incident by swerving. As a result of the actions the Altima struck the rear dual on the passenger side of the semi.
The incident resulted in minor damages to the semi-truck and disabling damages to the Altima. No injuries were reported by Deputy Fisher at the time of the incident.