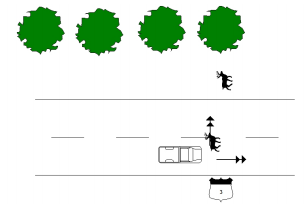 By: Donovan W. Mann – donovanm@977thebolt.com
Humboldt, IA – No injuries reported after an SUV strike a deer in the dark along Highway 3.
Officer Susan Rutz of the Humboldt Police Department reports on the animal involved incident. According to the report on Tuesday, Nov. 24, Terry Wiederin, 59, of Algona, was traveling along Hwy 3 near Tressel Bridge when a deer jumped in front of his red GMC Sierra. The animal was struck by the SUV that sustained damaged to left front headlight and door. The responding officer reports that all the air bags had been deployed as a result of the collision and the buck was found on at the scene of the incident.
The incident resulted in "minor damages" to the Sierra according to the report. Officer Rutz reports that the driver was uninjured as a result of the incident.