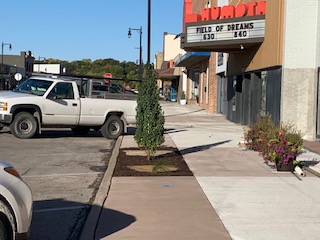 By: Donovan W. Mann – donovanm@977thebolt.com
Humboldt, IA – Humboldt's local movie theater is asking the community to join in a fundraiser as they look to keep going during the COVID-19 pandemic.
The Humota Movie Theater in Downtown Humboldt will begin to host an online auction today, Monday, Nov. 30 as they strive to keep their doors open during these uncertain times. The theaters General Manager Sarah VanOrd talks about the auction with KHBT.
The auction can be found on 32auctions.com/humotatheater. VanOrd says that the theater has over 80 items available for bid. The majority of the items up for bid are donated by some of the local businesses who are looking to support the Humota.
She says she knows times are tough for a lot of people across the board. "We're very grateful that so many people were willing to step up and help us out" the general manager says.
VanOrd says that about a year ago the community fought to revive the local theater and they are very grateful for their efforts. "Of course, we didn't see a pandemic coming" she says. As a whole the theater industry is struggling due to the lack of new content being produced. "Our whole industry is barely staying afloat."
The Humota is a nonprofit. Vanord says they rely heavily on the community to "rally" with them. The local public can help them "weather the storm" so they can "come back stronger than ever" once things return to normal.
The efforts are just about the physical theater itself but also the people who work there. VanOrd says she during "these hard times" it can be very difficult to find a job. "Especially a job you like" when students can balance their school day with employment. "Where you can actually kind of hang out, watch movies, talk about the different films coming out and things like that" says the general manager. She knows the kids that work there enjoy coming to work, especially during the stressful times.
The Humota's online fundraiser opened today and will open until Dec. 14. Check out all the items at 32auctions.com/humotatheater.