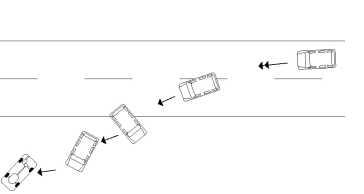 By: Donovan W. Mann – donovanm@977thebolt.com
Humboldt County, IA – Possible injuries reported after icy roads cause a field to slide off the road and overturn.
Deputy Kenneth Vorland of the Humboldt County Sheriff's Office files the report on the single car incident. The report states that on Tuesday, Nov. 24, Carlos Gomez, 25, of Livermore was west on 190th street when icy roads caused him to lose control of his 2014 Ford Escape. Gomez ended up going off the road sideways into the south ditch. The Escape struck the other side of the ditch and rolled over onto its top before coming to a stop.
The incident resulted severe damages to the vehicle that was towed away from the scene. Deputy Vorland reports that Gomez complain of some pain and he was transported privately for further evaluation.