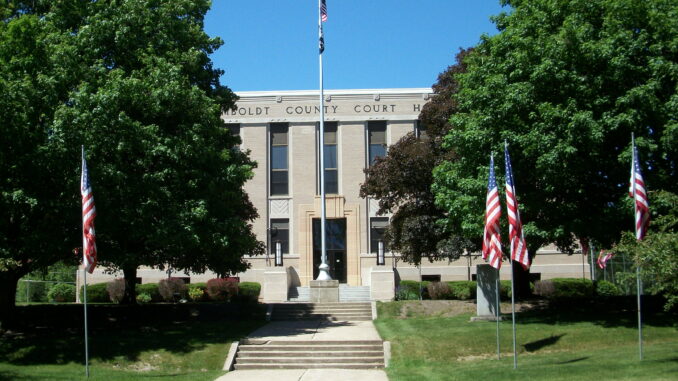 By: Donovan W. Mann – donovanm@977thebolt.com
Dakota City, IA – The Humboldt County Courthouse will be operating on an office by office basis when determining how to manage traffic.
During the meeting of the Humboldt County Board of Supervisors on Monday, Nov. 16 they held discussion on how to manage the foot traffic in the county's courthouse during the ongoing pandemic. The discussion included many of the department heads to receiving their input.
The discussions were started by Supervisor Erik Underberg who suggested they return to locking the court house and operating by appointment only. County Treasurer Jana Bratland was against this idea. She suggested they "take a step back" instead of going all the way back.
Bratland's biggest concern is having to go down stairs to open the door for an appointment required close proximity with another individual. She says that she feels as though it's safer for all staff to be behind the glass shield and counter that all offices now have.
As a result of lengthy discussions it was determined that all offices within the court house would be given the right to determine the best for their office. Some offices in the court house may choose to keep their door open while others may decide to lock up and go to appointment only. Additionally those needing to conduct business at the court house are encouraged to call the appropriate office ahead to see if they are busy. The public is also encouraged to do any business that can be done through mail or online to do so through those no contact methods.
Other county offices that are not in the court house include the Secondary Roads Department and Law Enforcement Center. Secondary Roads is operating by appointment only. The LEC's lobby is open and appointments for services such as finger prints can be made.
There was no official board action taken as a result of the discussions. The supervisors could potentially revisit the topic if circumstances deem it necessary.