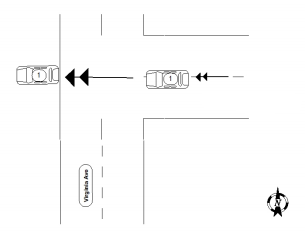 By: Donovan W. Mann – donovanm@977thebolt.com
Thor, IA – No injuries reported after an abandoned vehicle is found stuck in a ditch along Virginia Avenue.
Deputy Ryan Stein of the Humboldt County Sheriff's Office files the report on the single care incident. His report states that on Sunday, Nov. 15, around 2:20 am he found a black Cadillac CTS in a ditch along Virginia Ave with no driver in or around the vehicle. The vehicle had been westbound on a driveway but failed to turn onto the road resulting it going straight into the ditch. A log chain was hooked on the back of the vehicle as though someone had tried to free the vehicle from the ditch. The report states alcoholic beverage containers were inside and around the vehicle.
Two days later Deputy Stein reports that Bailey Cameron, 19, of Humboldt reported that she was the driver of the incident. She reported that she was unfamiliar with the area and didn't realize she needed to turn. The report states she said she was not drinking.
The incident resulted in functional damages to the CTS and Cameron was not injured as a result of the incident.