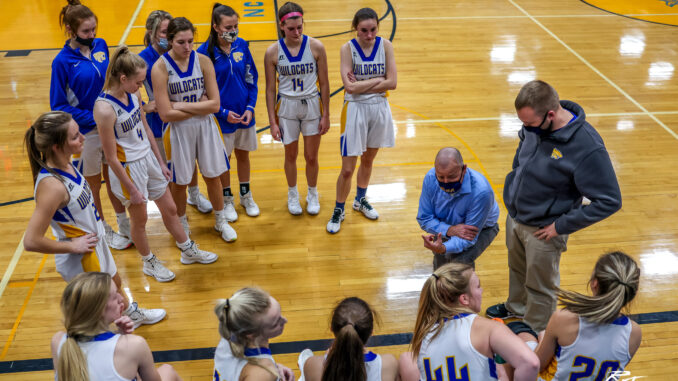 By: Donovan W. Mann – donovanm@977thebolt.com
Humboldt, IA – Humboldt High School girls basketball picks up their second straight North Central Conference win while hosting St. Edmond.
On Friday, Dec. 18, the Humboldt Wildcats hosted the St. Edmond Gaels for a NCC game. It was a 61-46 win for Humboldt who used a big second quarter to take the lead.
The first quarter was a slim win for the Gaels who got points for six of their players to build a slim 11-10 lead. The second quarter was all Humboldt who managed to outscore St. Edmond 23-12 in the period to take the halftime lead of 33-23.
In the third quarter Humboldt built their lead even more as they would escape the period leading 47-34. In the final period Humboldt forward Kendal Clark scored six points to finish off a solid night for the senior and the team who won 61-46.
Clark did lead the Wildcats in scoring with 20 points. Guard Bae Arnold had big night as well with 17 points and Jori Hajek had 12 to help lead Humboldt to victory.
St. Edmond played very well as a team shooting 48.6 percent from the field. They had 30 team rebounds but did turn the ball over 17 times.
The Gaels were led by Leah Neverman who had a double-double of 20 points and 14 rebounds. She shot 8-15 from the floor.
A final stat report from Humboldt girls basketball game against St. Edmond can be found on Varsity Bound.
With the win Humboldt improves to 5-2 on the season and 2-1 in the North Central Conference. Next for the Wildcats will be a road game on Tuesday, Dec. 22, against NCC foe Hampton-Dumont-CAL. Tip-off from Hampton is scheduled for 6:15 pm following the JV games.
Featured photo courtesy of Rick Thompson.