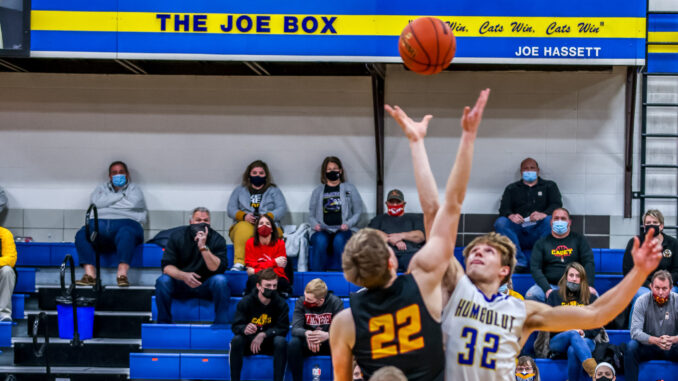 By: Donovan W. Mann – donovanm@977thebolt.com
Humboldt, IA – Humboldt High School boys basketball falls in a North Central Conference match-up.
On Friday, Jan. 9, the Humboldt Wildcats hosted the Cadets of Iowa Falls-Alden. It was a victory for the visitors, 69-65, who used an explosive second half from their star player to get it done.
In the first quarter it was tightly contested but the Cadets would come out with the 17-16 lead after a buzzer beating layup by forward Nolan Frohwein. Humboldt dominated the second quarter however as guard Will Orness nocked down two three pointers to help push the lead to 35-23.
The narrative completed changed in the third quarter as foward and Iowa Falls star Karson Sharar got himself going for 18 points in the period. Humboldt still held the advantage but it was cut down to 53-50. The fireworks continued for Sharar who would get 12 more in the fourth and overwhelm Humboldt to carry his team to the 69-65 victory.
As a team Humboldt shot 48 percent from the field and 48.1 percent from three point range. They pulled in 29 rebounds and had 14 assists. However, they turned the ball over 18 times.
Humboldt was led by guard Gabe Gidel who had 21 points on 7-10 shooting (5-8 from behind the arch). Orness finished with 12 on 4-7 shooting (4-6 from three point range).
Iowa Falls-Alden shot 48.2 percent from the field and just 28.6 percent from three point range. They had 14 assists and 21 rebounds. They had 10 steals and just 9 turnovers.
For Iowa Falls-Alden Sharar finished with 32 points, 30 of which came in the second half, on 11-23 shooting (6-16 three pointers). Guard Blake Janssen was second on the team with eleven on 5-10 shooting.
A final stat report from Humboldt boys basketball's game against Iowa Falls-Alden can be found on Varsity Bound.
With the loss Humboldt is now 6-3 on the season and 3-2 in the NCC. Gabe Gidel was named the player of the game by KHBT.
Next for the Wildcats will be a road game on Tuesday, Jan. 12, against South Central Calhoun. Tip-off is scheduled for 7:45 pm.