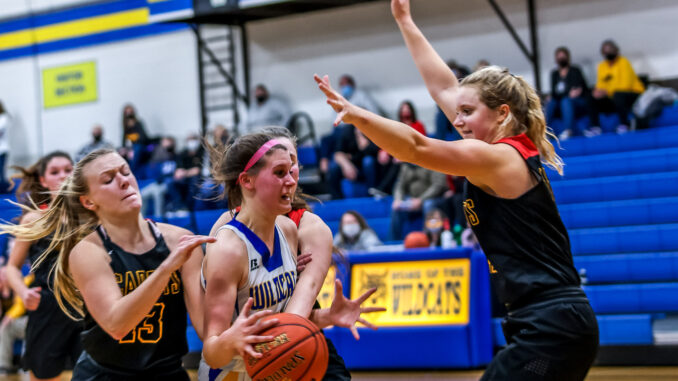 By: Donovan W. Mann – donovanm@977thebolt.com
Humboldt, IA – Humboldt High School girls basketball goes wire to wire in a North Central Conference win.
On Friday, Jan. 8, the Humboldt Wildcats hosted the Iowa Falls-Alden Cadets. It was a 51-42 victory for Humboldt who never trailed but still had to battle for the victory.
After the first quarter Humboldt held the 12-3 lead thanks to five quick points from guard Jayda Hoefer. Humboldt continued to grow their lead in the second quarter as guard Bae Arnold hit three triples to help push the lead to 26-14 going into halftime.
Things got interesting in the third quarter as Iowa Falls started on a 9-0 run to get back within three before Hoefer hit two shots from three point range to get Humboldt's offense back on track. After the third quarter Humboldt held a 41-32 advantage. Both teams would be dead even in the final quarter to get the 51-42 final score and win for Humboldt.
As a team Humboldt shot 34.7 percent from the field and 38.1 percent from three point range. The ended up with nine steals and rebounded the ball well for 31.
Humboldt was led offensively by Hoefer who had 17 points on 6-14 shooting (3-7 from behind the arch). Arnold finished with eleven points and forward Kendal Clark had a double-double of 10 points and 19 rebounds.
A final stat report from Humboldt girls basketball's game against Iowa Fall-Alden can be found on Varsity Bound.
The win for Humboldt is their seventh consecutive victory and puts them at 9-2 on the season including 4-1 in the NCC. Jayda Hoefer was named player of the game by KHBT.
Next for the Humboldt Wildcats will be another NCC game on the road against Webster City. The game is scheduled for Monday, Jan. 11, for a 7:30 pm tip-off.
Featured photo courtesy of Rick Thompson