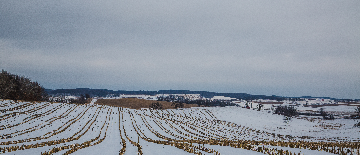 By: Donovan W. Mann – donovanm@977thebolt.com
Humboldt County, IA – The work of a farmer is never done even as the winter season continues to roll on.
The snow is falling and the fields are frozen but there is still plenty of work to be done for those who own and work the land. Field Agronomist with the Local ISU Extension Office Angela Rieck-Hinz talks about some of the things farms do during the winter months.
She says there is a lot of prep work going on to make sure everything is in place for the coming spring and planting season. "Right now most have pre-booked and pre-payed their seed orders for corn and soybeans." Most farmers are also finalizing their deals with their co-ops for herbicide and other chemicals. They also need to make plans on how the product is getting to the farm and who's applying it.
The agronomist says that a lot of farms take advantage of this time to make sure all of their equipment is top condition. "Folks spend a lot of time fixing up equipment from last year." She says planter prep can be very time consuming as part need to be orders and delivered as well. Farmer want to make sure their planter is in the "best working conditions possible" before they have to get in the fields.
Rieck-Hinz also says farmers are still moving some of their grain during the winter. "A lot of marketing going on in the winter time" she says. Some farms waited to market their corn and the prices are starting to rise again. The agronomist says they are selling to a local co-op or ethanol plant. There are plenty of semi-trucks with grain moving on the road right now.
Another thing farmer will be doing during the winter is making sure all their certifications are renewed. Rieck-Hinz says a lot of the local farms go through the extension office for classes to renew their pesticide applicator and similar licenses.
Winter is well underway and so is the never ending work of the local farmers.