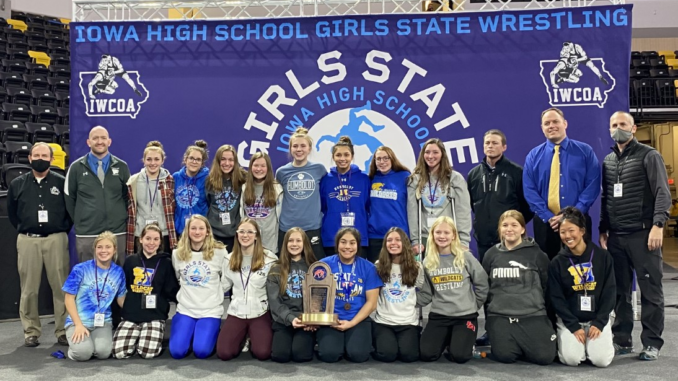 By: Donovan W. Mann – donovanm@977thebolt.com
Coralville, IA – Humboldt High School girls wrestling finishes with a runner up and third place finisher at the state tournament.
On Saturday, Jan. 23, the Wildcats began their second day of the state tournament with seven girls still active. The day was split up into two session with the first one setting the placement matches and the second one finishes the day.
Humboldt had two girls make it to the podium after five were eliminated in the blood rounds. Four of the wrestlers eliminated fell one round short of the podium.
Defending state champ for the 170 weight class Kendal Clark made it to the finals. However, she was upset by Denver wrestler Morgan Smith via fall 1:48 seconds into their match. Clark finishes her wrestling career with a 2020 state championship and 2021 runner up finish.
160 wrestler for Humboldt, Maria Elizondo finished third. Elizonda made it to the semi-finals of the championships bracket before she was bumped to the consolation bracket. She won her last two matches to get the third place finish.
As a team Humboldt finished second with 124 points. Waverly-Shell Rock was the top team with 256 points and Colfax-Mingo finished third with 119 points.