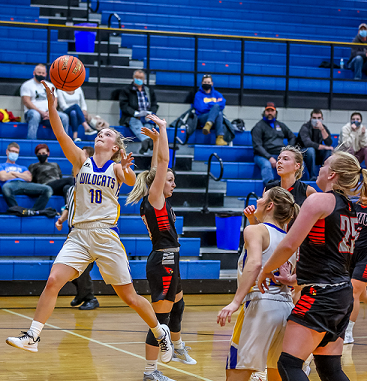 By: Donovan W. Mann – donovanm@977thebolt.com
Humboldt, IA – Humboldt High School girls basketball battles for the tough win over Garner Hayfield Ventura.
On Tuesday, Jan. 5, the Humboldt Wildcats hosted the Cardinals for a non-conference game. 38-37 was the final score as Humboldt managed to outlast GHV.
The first quarter was all Cardinals as they grabbed the early advantage behind seven points from forward Liz Richardson, 12-5. The second quarter was dominated by Humboldt, 14-2, as guard Bae Arnold put up eight in the period. Going into the locker rooms Humboldt held a 19-14 advantage.
The third quarter would go to the Garner Hayfield Ventura as Richardson provide another seven points spark. At the end of three GHV led 28-27. The final quarter was a back and forth grind. The winning shot was a free throw from Humboldt guard Jori Hajek who was fouled going up for a layup with nine second on the clock and the score tied at 37. GHV forced the ball down the court but an attempt at a buzzer beating three by guard Kelsey Watson missed short. Final 38-37.
As a team Humboldt shot 33.3 percent from the field but only 2-12 from three point range. They grabbed 29 rebounds and committed 12 steals.
Humboldt was led offensively by Hajek who total 16 points on 6-8 shooting. She also led the team with five steals. Arnold scored 10 as Humboldt only other double digit scorer.
As a team Garner Hayfield Ventura shot 30.8 percent from the field and just 1-12 from three point range. They knocked down 12 of their 20 free throw attempts. They hit the glass well for 35 team rebounds.
Richardson led GHV with a double-double of 16 points and eleven rebounds. She was 6-10 from the field. Guard Chloe Frank scored eleven points on 3-12 shooting and 0-4 from behind the arch.
A final stat report from Humboldt High School girls basketball game against Garner Hayfield Ventura can be found on Varsity Bound.
With the win the Wildcats are now 8-2 on the season. Jori Hajek was named the player of the game by KHBT 97.7 the Bolt. This is Hajek's second player of the game this season.
Humboldt girls basketball will return to action on Friday, Jan. 8. The game will be at home against North Central Conference opponent Iowa Falls-Alden. Tip-off is scheduled for 6:15 pm following the JV games.
Featured photo courtesy of Rick Thompson.