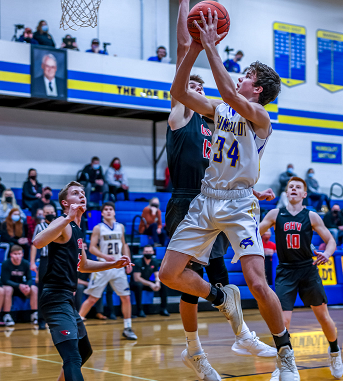 By: Donovan W. Mann – donovanm@977thebolt.com
Humboldt, IA – Humboldt High School boys basketball falls just short of double digit comeback against Garner Hayfield Ventura.
On Tuesday, Jan. 5, the Humboldt Wildcats hosted the GHV Cardinals. It was a victory for the visitors, final score 57-53.
In the first quarter Humboldt managed to strike first but the Cardinals got forward Kevin Meyers going for seven point to stake the early advantage after one, 17-11. In the second quarter Humboldt would continue to fall behind by as much as ten point. Then guard Will Orness got going for seven point in the quarter get the Wildcats back within three. Half time score was 26-23 GHV.
Humboldt continued to battle in the third quarter but seven points from Meyers put the Cardinals on top 38-32 going into the fourth quarter. The Wildcats fought hard to tie the score up late at 45 and GHV called a time out to stop momentum. Coming out of the time out it was five straight points for the Cardinals who never looked back. Final score 57-53.
Humboldt shot 45.2 percent as a team and 6-19 from three point range. They grabbed 27 total rebounds. They turned the ball over 19 times.
Orness led Humboldt with 12 total points off the bench whil shooting 3-7, all from behind the arch. Guard Gabe Gidel had eleven points on 4-7 shooting (1-3 three pointers) as the only starter with double digit scoring.
As a team Garner Hayfield Ventura shot 42.9 percent from the field and 8-20 from three point range. They collected 23 team rebounds.
Meyers led the Cardinals with 20 points on 7-12 shooting (1-2 from behind the arch). Forward Hayden Hutcheson had 18 point while shooting 6-11 from the field and 3-6 from deep.
A final stat report from Humboldt High School boys basketball's game against Garner Hayfield Ventura can be found on Varsity Bound.
With the loss Humboldt boys basketball is 6-2 on the season. Will Orness was named the player of the game by KHBT 97.7 the Bolt. This is second time Orness has been named player of the game.
Humboldt's next game will be on Friday, Jan. 8. The Wildcats will host a North Central Conference opponent against Iowa Falls-Alden. Tip-off is scheduled for 7:45 pm following the girls varsity game.
Featured photo courtesy of Rick Thompson.