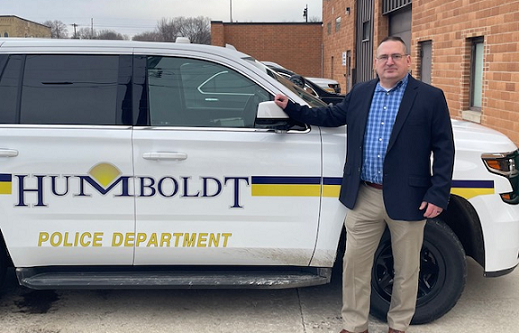 By: Donovan W. Mann – donovanm@977thebolt.com
Full interview with Police Chief Joel Sanders:
Humboldt, IA – Humboldt's new police chief is going through his first week and is looking forward to the work ahead.
On Monday, Jan. 11, Joel Sander officially began his full time tenure with the Humboldt Police Department as their next police chief. He talks with KHBT about his first few days and his plan going through the early phases of his time in Humboldt.
Sanders says that his first week is off to a great start and is ready for more. "It's been great, been a very good start" the police chief says. He says the community and department have given him a warm welcome.
"It's everything I expect but it's also been a blur." Sanders recognizes that there is still a lot he doesn't know about how the department operates. However he says there is a solid foundation to build on.
The new police chief says many factors both personal and professional brought him to Humboldt. The biggest thing he was looking for in a department was an opportunity to make a difference and leave a lasting impact.
When Humboldt was brought to his attention he began to do some research. He looked at what was in place as well as the needs.
"I realized it was a place that I could come in and I could help grow" he says. He hopes to come in alongside the department and help them and the community grow as a unit.
While Sanders is still taking the time to learn the ins and outs of how the Humboldt Police Department function he already knows one of his first focal points.
"Some of the things we're going to have to jump on early is reworking the policy manual." The new police chief says that it's been over a decade since the handbook has been adjusted.
"Then everything's got to build off of that" he says. This includes the culture of the department, how officers can perform and the expectations of the community.
Humboldt Police Chief Joel Sanders is currently holding office at City Hall until the space in the Law Enforcement Center opens up at the end of the month.
He welcomes any members of the community to come down and see him. He also plans to make himself very visible to the public and says don't hesitate to say hello.