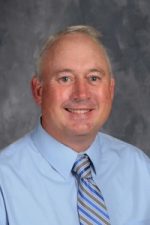 By: Donovan W. Mann – donovanm@977thebolt.com
Humboldt, IA – The Humboldt Community School District's Superintendent of Schools is ready for more after finishing the first semester in his position.
During the most recent meeting of the Humboldt CSD Board of Education they held a closed session to perform an evaluation for Superintendent Jim Murray who just completed his first semester. Murray talks with KHBT about the experience of his first semester.
He says that the start to his tenure is certainly a unique one given a couple different circumstances. When the superintendent first took the job he was charged with forming his own administrative team. "Folks would say 'boy you did a lot of hiring, you hired several new administrators'" he says.  The superintendent says the team is just "fantastic to work with."
COVID-19 is another circumstance a lot of first year superintendents don't have to navigate through as well. Murray says that the schools ability to navigate their way through the pandemic is a "celebration" but hopes it's a one-time thing.
Superintendent Murray says he and administrative team have a set of standards they work by and he wanted to provide examples to the board during his evaluation. The standards are being approachable, acting with integrity, communicating effectively and shared decision making.
The superintendent says he was able to provide "lot of samples" of the work he and the administrative team have done. While he says he still has some work to do he's "truly enjoyed it" and the challenges of his job.
As the superintendent of the district Murray is very high on making sure he is visible to everyone. "I think it's extremely important" he says. Some of the best conversations he's had are in those "casual atmosphere." The superintendent is always open to hearing feedback from parents and others about how they can improve the schools.
Superintendent Jim Murray is just halfway through his first year of his tenure. He's excited for what the future holds and the opportunity to continue to help the district develop further.