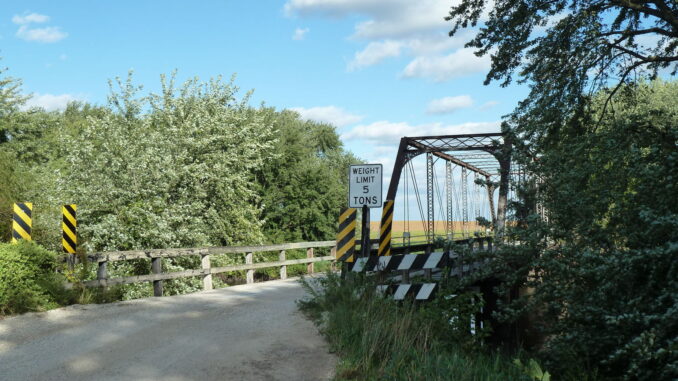 By: Donovan W. Mann – donovanm@977thebolt.com
Dakota City, IA – The Humboldt County Board of Supervisors approve an annual bridge inspection contract.
On Monday, Jan. 11, the supervisors were presented the contract with Shuck-Britson Inc. for their 2021 bridge inspections in Humboldt County. Two bridges to be inspected are known as bridge 53 and bridge 60, both of which are on the "12 month inspection list."
Bridge 53 is located along 130th Street east of Washington Avenue. County Engineer Ben Loots says this bridge has been on the 12 month inspection list for a while because of the increased deterioration of the deck. It's a pony truss bridge built in the early 1900s according the engineer.
Loots says that bridge 60 was just added to the 12 month list after the last round of inspections by Shuck-Britson. The bridge is located on 110th Street just northeast of Livermore. It's a high truss bridge. Loots says one of the caissons has begun to lean.
The engineer says that in the past both bridge 53 and 60 have been on the county's "will not replace" list if they fail. Loots says he wanted to open the conversation with the board about repairs or replacements because Shuck-Britson advised they put both on their five and ten year plan.
The engineer says the estimates have bridge 60 costing about a quarter of a million dollars to rebuild while the other cost about $500,000 to $600,000. Loots says repairs will depend on home much the county wants to spend. The cost of repairs for bridge 60 would be similar to the cost of replace. For bridge 53 Loots says he can look into the cost of redoing the bridge deck to make it last "a little while longer."
The supervisors and Loots agreed to discuss these two bridges further when they discuss the five year plan in the near future.