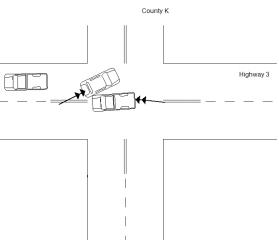 By: Donovan W. Mann – donovanm@977thebolt.com
Dakota City, IA – No injuries reported following a two vehicle collision on Highway 3.
Deputy Andrew Shillington of the Humboldt County Sheriff's Office files the report on the incident. His report states that on Wednesday, Jan. 13, a minor from Humboldt was east on Hwy 3 approaching the intersection with County K when an unidentified vehicle facing north failed to yield at the stop sign. The minor swerved to miss the unidentified vehicle but lost control of their gray Chevrolet Impala.
As the minor attempted to regain control of their vehicle the entered the westbound lane of Highway 3 and was struck passenger rear quarter panel by a westbound  red Chevrolet Silverado driven by Joshua Slaikeu, 38, of Thor.
The incident resulted in disabling damages to the Impala that was towed away and functional damage to the Silverado that was driven away. No injuries were reported by Deputy Shillington at the time of the incident.