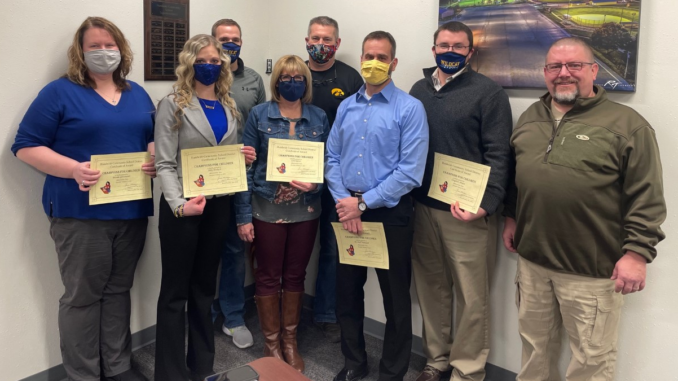 By: Donovan W. Mann – donovanm@977thebolt.com
Dakota City, IA – The Humboldt Community School District is recognizing multiple staff members for their willingness to go above and beyond for their students and families.
On Monday, February 15, the Humboldt CSD held their monthly board meetings. During this meeting they recognized two individual staff members as well as the administrative team for being "Champions for Children."
Technology Assistant Josh Telschaw was given recognition from Jason Hoag for his extremely timely assistance through some technological issues while trying to live stream a ninth grade basketball game. "I would just like to just say how awesome that is to be able to get that kind of help that quickly" Hoag says.
The live stream provides the community the opportunity to view games even if they can't make it out due to the pandemic. Hoag says it was "tremendous" to have that technological help that "all of us need at various times."
Eighth Grade Math Teach Melanie Nesbitt was recognized by Board President Tate Satern for her dedication to her students. He says he was recently contacted by a family who "wanted to express their gratitude for the extraordinary job one of our teachers was doing." The parents told him of the positive impact Nesbitt was having on their son.
"This couple was especially impressed with a high level of communication" that she has shown according to Satern. They can tell she is caring towards students and their education. Satern says the board is "thankful and very blessed" to have educators like this in the Humboldt schools.
Lastly the Humboldt CSD administrative team was recognized by the board for all their hard work during this unprecedented year. "It is absolutely amazing, given the challenges this school year has presented how well you have all prevailed" Satern says. The work of the administration team has been a big reason why the schools have been kept in session since the start of the school year.
Satern says all the administrators make the board look "brilliant." The board president says that it's "Mr. Murray and all of you administrators that deserve all of that recognition."
The Champions for Children honor is used to recognize teachers and staff members of the Humboldt Community School District who do extraordinary work for the students of the school.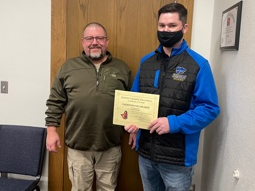 School Board President Tate Satern (left) and Josh Telschaw (right)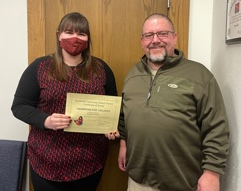 Melanie Nesbitt (left) and Board President Tate Satern (right)