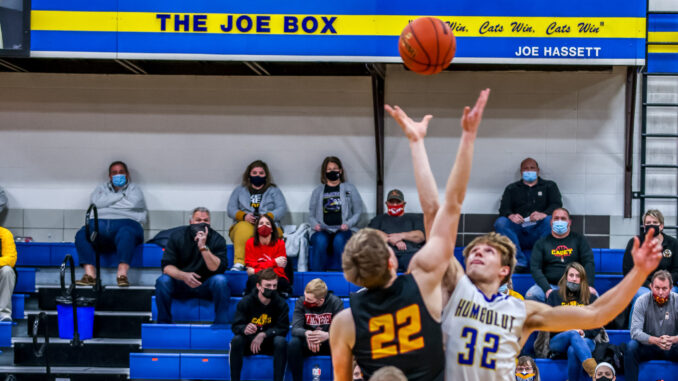 By: Donovan W. Mann – donovanm@977thebolt.com
Humboldt, IA – Humboldt High School boys' basketball powers past Webster City in the opening round of the substate tournament.
On Monday, February 22, the Humboldt Wildcats hosted the Webster City Lynx in the quarterfinals for the Class 3A Substate 2. It was a 78-45 win for the Wildcats.
It was a fast start for Humboldt who doubled up the Lynx in the first quarter thanks to six points from guard Will Orness and forward Sam Fischer. After the first period it was 22-11.
Webster City tried to play it tight in the second quarter as their defense began to limit the Wildcats passing lanes. Still Humboldt was able to stretch their lead to 33-18 at the half.
The third quarter brought a larger lead for Humboldt who got seven points in the period from guard Caden Matson. The Wildcats led 57-33 after three quarters.
The final quarter didn't change anything as Webster City and Humboldt both started to withdraw their regular rotation players with about two minutes to go. Humboldt would drive the lead up to the final 78-45 margin of victory.
As a team Humboldt shot 64.6 percent from the field including 8-13 from three point range. They pulled in 30 rebounds, had 13 assists and nine steals. The turned the ball over eleven times.
Fischer led the Wildcats with 16 points on 8-15 shooting. Matson recorded 15 points on 6-8 shooting and seven rebounds.
Webster City shot 41.3 percent from the field and 2-17 from behind the arch. They pulled in 16 boards, eight assists and six steals. They recorded 13 turnovers.
Guard Tyler Olson head 13 points on 6-12 shooting to lead the way for the Lynx. Forward Jamin Stuhr was 4-5 from the field and 2-2 from the free throw line to record 10 points.
A final stat report from Humboldt High School boys' basketball versus Webster City in the Class 3A Substate 2 Quarterfinals can be found on Varsity Bound.
With the win Humboldt is now 14-7 on the season and have beaten Webster City for the third time in as many attempts this season. Forward Jacob Heier (six points, five rebounds and three steals) was named the player of the game by KHBT as part of the broadcast coverage.
Humboldt will play Algona on Thursday, Feb. 25, in the substate semi-finals. The game will be held at Algona High School. Tip-off is scheduled for 7 pm.
Featured photo courtesy of Rick Thompson.