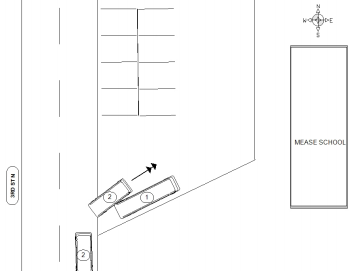 By: Donovan W. Mann – donovanm@977thebolt.com
Dakota City, IA – No injuries reported after a parked unmanned school bus is struck from behind Monday morning.
Deputy Tim Fisher of the Humboldt County Sheriff's Office files the report on the incident. His report says that on Monday, February 22, Monte Vitzthum, 67, of Dakota City was traveling north on 3rd Avenue North looking to turn right into the parking lot of Mease Elementary School. As he did his small white bus struck a legally parked school bus on the rear passenger side. The report says there was no driver in the school bus at the time of the incident.
The incident resulted in minor damages to both vehicles that were driven away from the scene. No injuries were reported by Deputy Fisher at the time of the incident.