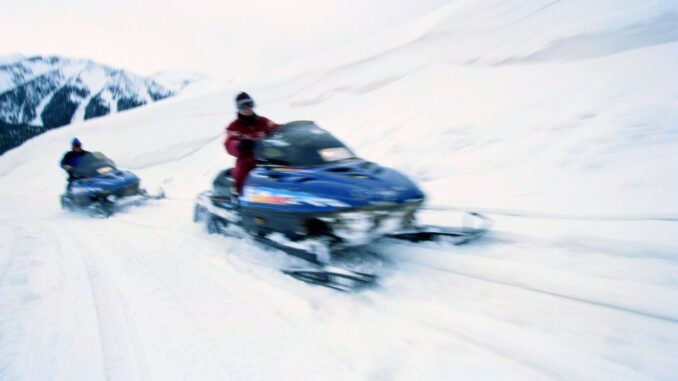 By: Donvoan W. Mann – donovanm@977thebolt.com
Humboldt, IA – Snowmobiling is a fun activity for people to enjoy during the winter seasons.
In Humboldt County there is a snowmobile club called "Sno-Skimmers." Their President Shane Braybe says they welcome all ages and skill levels to the club to enjoy the passion of riding through the snow covered trails.
He calls the club a "group of enthusiasts" who have a "passion" for the sport. Members also help tend to their trails and maintain equipment used to groom the snow for preferable riding conditions.
The Humboldt Sno-Skimmers also does fundraising, usually in the winter time during the riding season. One of the highlights of the season is the supper hosted by the club to kick-off the season. Braybe says they cater a meal, sit down and share stories to get excited for the season ahead.
Braybe says that the snowmobile trails in Humboldt County are good for the beginner and advance rider alike. One trail is the Three River Trail which is "pretty much straight and flat." The rider is not going to have to worry about steeper banks or other curves and challenges. "For the most part they can just get on the trail and go have some fun" the club president says.
The majority of the trails are located in ditches along Highway 169 and Highway 3. There are also some county roads that run along the snowmobile trails. All trails will be marked by signs that Sno-Skimmers puts out as part of their agreement with the county.
As with any motor vehicle, riders should always consider their safety when operating a snowmobile. "Don't ride above your skill level" Braybe says. He recommends new riders only ride during the day and have a "buddy" with them in case there is a break down. Riders should have their fully charged cellphone on them in case they need to call for help.
The Sno-Skimmer President says "don't overdrive your capabilities." Today's snowmobiles have more power and can go faster as a result. Braybe says it "can get pretty crazy" while recommending riders say within their limit.
Humboldt Sno-Skimmers is a member of the Iowa State Snowmobile Association. More information about the club can be found on Facebook under Humboldt Sno-Skimmers.