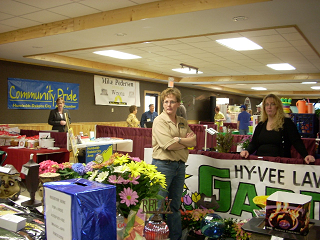 By: Donovan W. Mann – donovanm@977thebolt.com
Humboldt, IA – The 7 O'clock Kiwanis will be holding their Annual Home Show on Saturday, April 10th, at the Humboldt County Fairgrounds.
After not being able to hold the event last year the club has announced the return of the fundraiser they've put on for more than two decades. Bruce Johnson with the 7 O'clock Kiwanis says the event will be similar to years past.
The club will have the omelet brunch that will begin at 8 am and be available until 11 am. There will continue to be "various vendors" present for the attendees to meet with and see what they have to offer.
Johnson says this includes companies like landscapers and a different lawn and garden stores. There will also be construction companies, Norwex, Pampered Chef and Bank Iowa as well. The purpose of the event is to give those in attendance some ideas ahead of the spring and home improvement season.
Johnson says the club does have commitments from some of their regular vendors. He says the following companies have "always been with us every years and came back to try and help us out this year:"
Norwex
Pampered Chef
Spring Valley Roofing
Terry and Bob's Sign Company
Tupperware
Lawn Ranger
Oaks Garden Spots
Zinnel Roofing and Exteriors
Seilers Appliances.
The 7 O'clock Kiwanis are open to more vendors and not strict about the companies can present at the home show. "Basically we're open to anything as far as vendors that have something to sell" Johnson says.
He says they are still accepting vendors but they don't expect to be "completely full" this year because of the COVID-19 pandemic. "We struggled with deciding whether we were going to have it or not and we just decided we were going to go ahead and do it as safe as possible."
In terms of safety protocol the club will be spacing all the vendors out to allow for extra social distancing space. This will be the same for eating tables for the omelet brunch where all the workers will be masked. For those in attendance masks are "recommended" but not required.
The 7 O'clock Kiwanis's Annual Home Show at the Humboldt County Fairgrounds Event Center will be Saturday, April 10th, from 8:30 am-2 pm with the omelet brunch starting at 8-11 am.