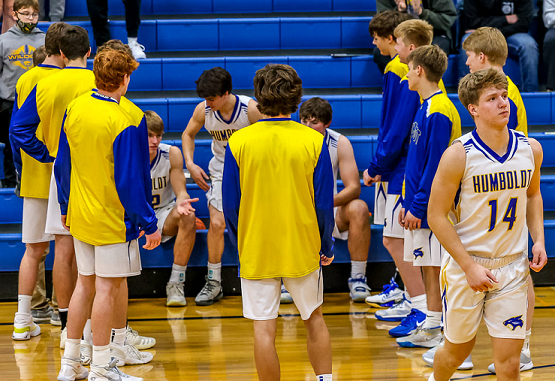 By: Donovan W. Mann – donovanm@977thebolt.com
Humboldt, IA – Humboldt High School boys' basketball wraps up their 2020-2021 team with an identity to build on.
The Wildcat boys' basketball season came to a close on March 2 in the Class 3A Substate 2 Finals. However, Head Coach Jason Thurm says they were where they wanted to be: with a shot at getting into the state tournament.
Part of the identity of this team was their ability to pass the ball unselfishly. They averaged 14.1 assists per game as a unit.
Coach Thurm calls that version of the game fun to play and fun to watch. He says it takes a good group of guys who are willing to buy into that system. The plan going forward is to continue to try and build on this style of play.
When the season came to a close Humboldt had no true scoring superstar. However, they had four guys averaging right around 10 points a game with Sam Fischer leading the way with 11.5 points per game.
Coach Thurm says this aspect made Humboldt a "hard scout defensively." He says a lot of teams will have that one person a defense can focus on but felt his squad didn't allow teams to do that because if one was shut down they had a teammate that could get the points.
Another huge part of this teams identity, according to coach, was their ability to be resilient all season long. He says in January when the team came out of the winter break on a four game losing streak he could tell the confidence was down because nothing seemed to be going their way.
He says when stretches like that occur it can become easy to blame others but this team "rose to the occasion" to finish out strong. "And I was just really happy, really proud of the boys with the way that they fought through that."
This years roster included five seniors. When Coach Thurm talks about that group he says their imprint will be left on the school and program. He says they were "phenomenal" with their intensity and leadership that they brought into each practice.
"It's a case where they're not going to be with us next year but they will be with us next year because every single thing that  they do this year and that they've done in the past has an impact on the other guys that are with them that will be back."
This was Coach Thurm's second season as the head coach for the team. The team finished 15-8 and was third in the North Central Conference at 9-4. Their record includes two wins in the Substate Tournament.