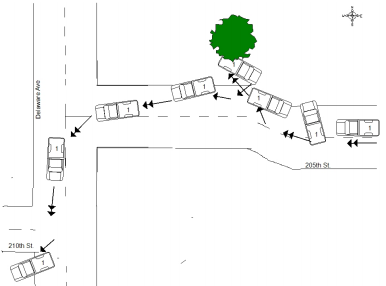 By: Donovan W. Mann – donovanm@977thebolt.com
Gilmore City, IA – No injuries reported after a pickup truck loses control and hits a tree in Gilmore City.
Deputy Kenneth Vorland of the Humboldt County Sheriff's Office files the report on the single vehicle incident. His report says that on February 21 Jeremy Lange, 43, of Gilmore City was traveling west on 205th Street which is labeled a gravel road.
As he approached a "bend in the road to the north" his black Dodge Ram 2500 spun around facing back to the southeast and slid backwards of the road. The rear of the truck struck a tree before returning to the road and getting trapped in a ditch at a nearby intersection.
The incident resulted in disabling damages to the Ram 2500 and the tree also sustained damages. No injuries were reported by Deputy Vorland as a result of the incident.