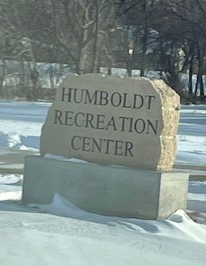 By: Donovan W. Mann – donovanm@977thebolt.com
Humboldt, IA – The Humboldt Rec Center is enjoying the ability to get more exposure by hosting different tournament and meets.
Since the Rec Center in Humboldt first open they've had the privilege to host some local track meets, basketball and volleyball tournament. Now with other facilities being restricted by COVID-19 the facility in Humboldt is getting more opportunity to host events for out of town schools and organizations.
Rec Director Paxton Petersen says that the interest is coming from different places and levels of competition. From other high schools to colleges there has been plenty of interest to use the three year old Rec Center. Waldorf University has already hosted two track and field meets in Humboldt.
One impact from hosting these events is the financial income according to Petersen. They will be looking to replace their basketball court here this year and the extra money will certainly help. The facility is always looking to update their equipment and expand as it gets older.
Beyond the financial gain of these events Petersen says there is no downplaying the positive impact the exposure gives to the facility. "I think it's huge" she says. The rec director says they've seen that impact this year. She says there has been participants who run in track meets or played in a tournament who want a place to train but some places are still limited due to the pandemic.
Petersen says they have seen a lot more day passes as a result. From those looking to run on the indoor track or play on the Rec Center's basketball court there are people coming who are "just really trying to train a little bit more."
Another great part about getting some of the area colleges competing at the Humboldt Rec Center is the chance for former Wildcats to compete again in Humboldt. Petersen says "that was really fun." She recalls the first Waldorf University meet included two former Humboldt graduates, Devon Coon and Kirstyn Beaman (runners for Iowa Central Community College). "It was really fun to be able to watch them run kinda run in a college setting."
Some events already hosted this year by the Humboldt Rec Center includes the track meets for Waldorf College. They've also hosted two Humboldt High School Booster Basketball Tournaments (both girls and boys). They will be hosting two AAU volleyball tournaments in the near future and to start the Humboldt High School Track and Field season they will host the three indoor meets.
More information about the Humboldt Rec Center can be obtained by calling (515)604-6494.