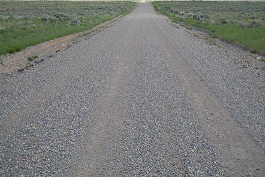 By: Donovan W. Mann – donovanm@977thebolt.com
Dakota City, IA – The Humboldt County Secondary Roads Department will begin tending to gravel roads soon.
During the County's Board of Supervisors meeting on Monday, March 15, the board asked Engineer Ben Loots on this subject. He reports that the secondary roads crew will begin grooming gravel roads once weather permits it.
Loots says he believes they will probably begin this process next week since there might be more unfavorable weather coming during the mid-week. The department has already loaded their rock stock piles.
The engineer says once the weather cooperates they will begin hauling rock on the gravel roads. They will also begin using their road groomers to level the gravel.
The board of supervisors thanked Loots for the update on this matter.