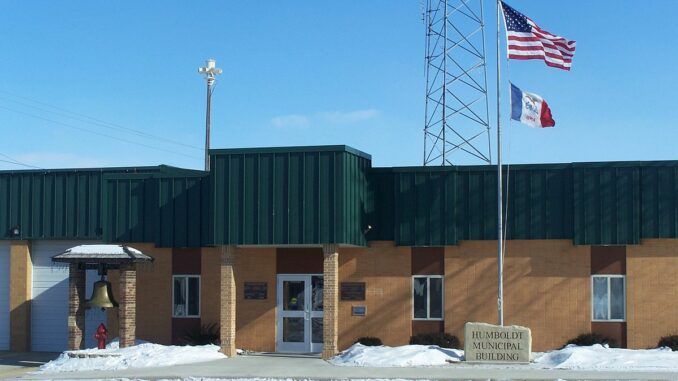 By: Donovan W. Mann – donovanm@977thebolt.com
Humboldt, IA – Humboldt city officials are concerned over some of the legislation being discussed by the state law makers.
City Administrator Travis Goedken says that during the recent city council meeting he updated council on some bills being discussed by the Iowa House of Representatives and Senate. He has some concerns over a few bills would impact the city.
One bill is Senate File 587. This bill creates funding for mental health and ties in a senior citizen tax credit. Goedken says that on the surface this appears like a good bill.
However, the city administrator says "to fund those two they are going to remove state back fill funds to cities based on the property tax rate change that the state enacted several years ago." This would amount to a loss of $131,000 a year for the City of Humboldt.
A second bill Goedken says they are keeping a close eye on is SF 479, also known as the "back the blue" bill. The city administrator says "of course we support local law enforcement; however, this is inserting the state into local budgetary decisions."
The proposed bill is that if any city or county were to reduce their law enforcement budget allocation the state would then withhold any state and federal pass through grant dollars to that locality until it is "rectified."
The city administrator says a "very real life situation" on how this would hurt a city like Humboldt is if the local schools decided to cancel their school resources officer. Since the school funds half of that position's salary, the city would have to absorb the cost or let the officer go. This results in a decrease in the budget, resulting in loss of grant funding.
Goedken stresses that this is just an example and is NOT being discussed by the Humboldt Community School District or the city. He also says that this bill is not being backed by any of the states lobbying interests.
Goedken and other local officials have expressed their concern with these and other legislation to local State Representative Mike Sexton and Senator Tim Kraayenbrink.
They encourage any concerned citizen to contact their local state representatives as well.