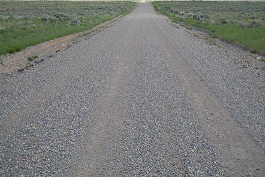 By: Donovan W. Mann – donovanm@977thebolt.com
Humboldt County, IA – Gravel road grooming is a process and it might leave some areas looking less than spectacular while the work is being done.
Over the past week the County's Secondary Roads department has begun hauling rock for gravel roads as well as building shoulders and building "crowns." While the work is done some areas may be left in worst conditions than others.
County Engineer Ben Loots says all the work being done is important for the short and long term condition of the roads. Cutting the shoulders and building a crown is designed to help water drain from the roads to keep them firm.
While they do this a lot of gravel and weeds could get piled up in the road and the area may look a mess. However, the secondary roads department will not leave the roads in this condition as they continue the grooming process.
Loots says that people will rarely see the shoulders in front of their residence cut but it does happen. Usually it will only happen every 10 to 15 years.
Those with questions can always contact the secondary roads department or their area supervisor.