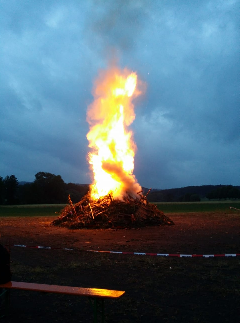 By: Donovan W. Mann – donovanm@977thebolt.com
Humboldt, IA – The open burn day for the City of Humboldt is coming up at the end of the month and city officials want to remind the public of the rules.
As previously reported city council has set the date for the open burning of yard waste in Humboldt for Saturday, April 17th, starting at 8 am. City Administrator Travis Goedken reminds the public that the rules have not change this year.
As in the past this is a one shot deal with no opportunity for a makeup regardless of the circumstance. "If we have rain or, god forbid, snow again on the burn day that does not mean it gets postponed to Sunday" Goedken says.
Saturday, April 17th, is the only opportunity for the community to open burn their yard waste. "That's our only shot." This is per the City's Code of Ordinance.
The city administrator says there is only one type of material that can be burned during the open burn day. Landscape (yard) waste is the only thing allowed to be burned. No construction materials such as 2 x 4s.
Goedken says to "make sure you have a water supply nearby" in case the fire gets out of hand. The permitted hours are between 8 am and 6 pm.
City officials understand that some people in the community might have medical conditions that could get agitated by the smoke but the ordinance was designed with that in mind. Goedken says this ordinance was added before his time with the city but he has some understanding of why it was written.
"My understanding from council's discussion at that time was they changed the ordinance to just this one day a year." This was so the city could publish and advertise it as the one and only day this would happen. The hope is that those with respiratory issues or who simply don't like the smell of smoke will be able to better prepare for the day.
If the weather is not favorable for open burning on April 17th the city will also be offering a brush pickup day in May. Any questions or concerns about open burn day in Humboldt can be directed to City Hall at (515)332-3435.