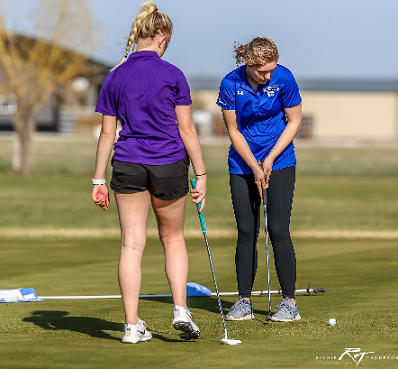 By: Donovan W. Mann – donovanm@977thebolt.com
Pocahontas, IA – Humboldt High School girls' golf gets their first meet win of the year on Friday, April 9.
In a dual against Pocahontas Area High School in Pocahontas the Wildcats shot 70 over par as a team. Pocahontas shot 79 over. Humboldt's Nora Carlson was a medalist with a score of eight over par. The course par was 36.
Here is how the rest of the Humboldt golfers did:
Noelle Hamand was 18 over.
Aries Packard was 20 over.
Chloe Mayall was 24 over.
Ashlee Wergeland was 26 over.
Adalynn Lawman was 30 over.
The next meet for Humboldt girls' golf will be on Monday, April 19. They will host Manson NW Webster at the Humboldt Country Club. Start time is scheduled for 4:30 pm.
Featured photo courtesy of Rick Thompson.