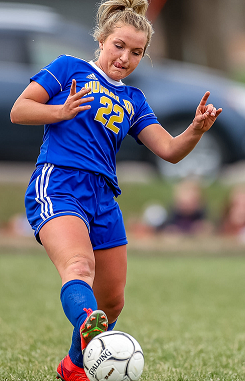 By: Donovan W. Mann – donovanm@977thebolt.com
Humboldt, IA – Humboldt High School girls fall at home, 4-0, to East Sac County despite a strong start.
On Tuesday, April 13, the 2-1 Wildcats hosted the 2-1 Raiders. Humboldt started the first half strong but were unable to record a single goal.
In the 23rd minute East Sac County was able to get their first goal as Felicia Hagner centered a pass to Makayla Meyer who finished the play off by banking it in off the left post. Nine minutes later Brianna Boeckman recorded a shot that spiraled just past Humboldt's Goal Keeper Maria Elizondo to make it the halftime score of 2-0.
Humboldt started the second half looking to get a response but were unable to. In the 65 minute Makayla Meyer recorded her second goal of the game on a break away opportunity to make it 3-0. The final goal of the game was by Hagner who got through the defense on a good pass from Meyer. 4-0 final score.
In the game Humboldt was able to take 12 shots, four of which were on goal. Elizondo recorded nine saves while playing all 80 minutes between the posts.
A final stat report from Humboldt High School girls' soccer versus East Sac County can be found on Varsity Bound.
With the loss Humboldt falls to 2-2 on the season. Kaylee Shaner was named player of the game by KHBT as part of the broadcast coverage.
Their next game will be Thursday, April 22, at home against Aplington-Parkersburg.
Featured photo courtesy of Rick Thompson.