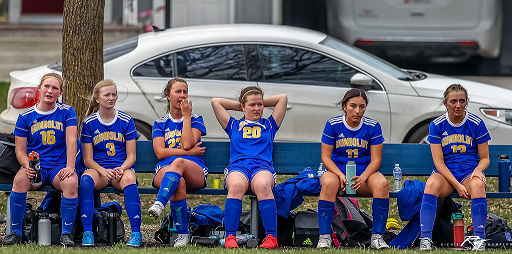 By: Donovan W. Mann – donovanm@977thebolt.com
Humboldt, IA – Humboldt High School girls' soccer falls to Garner-Hayfield/Ventura 3-0 despite forcing their goalie to work for the shut out.
On Thursday, April 29, the Wildcats hosted the Cardinals at the Humboldt High School Soccer Field. For the second straight game Humboldt was unable to register a goal in a 3-0 loss.
GHV scored one goal in the first half and two in the second half. Their leading goal scorer was freshman Ali Hess with two goals while fellow freshman Katelynn Knoll had the other goal.
As a team the Cardinals took 18 shots, six of which were on goal. Their keeps Chloe Frank made eleven saves to keep her sheet clean.
Humboldt is now 3-5 on the season. Their next game will be Friday, April 30, at home against Hampton-Dumont-CAL. It will be a doubleheader with the boys' team that starts at 4:30 pm.
Feature photo courtesy of Rick Thompson