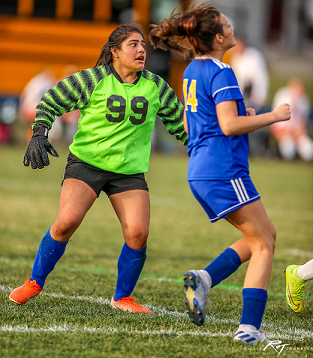 By: Donovan W. Mann – donovanm@977thebolt.com
Storm Lake, IA – Humboldt High School girls soccer shuts out Storm Lake on the road in a 3-0 victory on Thursday, April 8.
Coming off a brutal 9-0 loss at home to Mason City on Tuesday, April 6, the Wildcats were back on the road to face the Tornadoes. Humboldt put on a strong offensive display in rainy cold conditions to get a bounce back result.
In the first half Humboldt got a goal from Grace Smith, her second of the season. This goal was the only one of the first half giving the Wildcats the 1-0 lead at the break.
Into the second half Humboldt continued to press their offense. Two freshman, Ava McIntire and Ashley Carvajal,  scored a goal to round out the 3-0 win. For McIntire this was her second of the season and Carvajal's first.
Humboldt took a total of 22 shots, nine of which were on goal. Yuli Orana was credited with Humboldt only assist in the game.
Goalie Maria Elizondo spent all 80 minutes in the net for Humboldt. She is credited eight saves.
A final stat report from Humboldt girls' soccer versus Storm Lake can be found on Varsity Bound.
With the win Humboldt is 2-1 after the first week of the season. Their next match is on Tuesday, April 13, at home against East Sac County. It is scheduled to begin at 5 pm.
Featured photo courtesy of Rick Thompson.