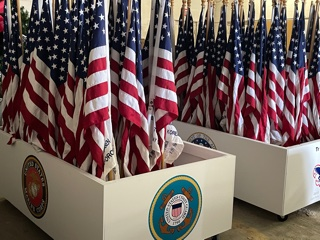 By: Donovan W. Mann – donovanm@977thebolt.com
Humboldt, IA – A local scout is donating flag storage units to the City of Humboldt as his Eagle Scout project.
On Monday, April 19, Aaron Boleyn came before the city council to present a project he has worked on for his Eagle Scout qualification. The young scout is a member of local troop 108 and currently holds the rank of "Life Scout."
Boleyn is working on his final few requirements to get the highest rank of Eagle Scout. One of the "major items" for achieving the top rank is to complete a "specific Eagle Project." The scout says that this project must benefit an individual, group or organization as well help the scout demonstrate organizational and leadership skills.
For his project the scout designed storage units for the city's American Flags that are displayed downtown during holidays. He says this is an idea that has been thought about by the local troop but he decided to act on by designing the units and going through the planning steps.
He says the way the flags used to be stored in the old fire department next to the City Hall was less than ideal. The local scout troop, who is responsible for hanging and removing the flags when needed, would wrap them around themselves and place them on a table. Boleyn felt as though this was not the best way to honor the flag and those who served the United State in the Armed Forces.
The units that Boleyn designed allowed the flags to be stored in an upright position for better flag storage etiquette. With the help of his dad he designed the wooden units that have individual PVC stands for each flag.
Scout Master Gerald Davis serves as Boleyn's mentor for this project. Mayor Dan Scholl was the scout's primary contact with the city
In October of 2020 he filed his paper work with the Scout District Office and got his approval to begin the work.
As per the requirements of the project, Boleyn was responsible for fundraising to purchase the needed materials. By late January all materials had been acquired thanks to the help of some local businesses. The scout troop, under Boleyn's schedule and leadership, then put together the units during Saturday work sessions in February, March and April.
It took about three sessions to finish construction of the boxes by the older scouts. Boleyn's father did have to help with cutting wood due to the troop being restricted on what tools they could use.
The young troop members helped paint the units white along with the scout emblem and different branches of the United States Military. Boleyn joked that "some went home with more paint on them than I think we got on the boxes."
The units were officially delivered to the city on Saturday, April 17.