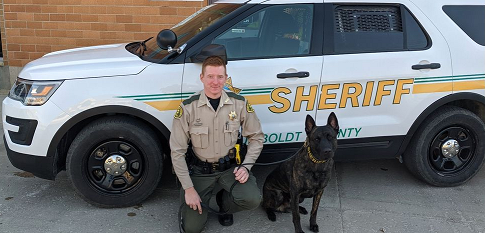 By: Donovan W. Mann – donovanm@977thebolt.com
Dakota City, IA – The Humboldt County Board of Supervisors are looking forward to the great things to come from the new K-9 unit.
On Monday, April 26, the board got to meet the county sheriff's office's new K-9 unit, Rooster. As previously reported, Deputy Andrew Shillington is Rooster's handler and they will be working all of their shifts together. Sheriff Kruger and Chief Deputy Corey Lampe were both present for the meeting.
The K-9 is a two-year-old Dutch Shepard who Deputy Shillington says was picked out before birth for this job. He is a dual purpose K-9 for both the identifying of narcotics as well as criminal apprehension.
Deputy Shillington says Rooster loves to track and is very good at it. He also has a very strong bite that is capable of ripping through protective training suits.
Rooster is trained in German for his commands. It is the standard practice of K-9 units to not have the primary language of the dog be English.
The duo is part of a training group out of Garner. The group meets twice a month to go through the required "maintenance training." They also provide an on hand resource for each other in case a larger search party is needed for an investigation.
Sheriff Kruger says that Deputy Shillington and Rooster have already done "good things" since the K-9 unit was activated on April 1. Recently the local schools had them come in with their training group to do a search. Nothing was found in the schools but they were able to identify a car of interest in the high school parking lot that was later searched and multiple items related to drugs and alcohol seized.
As part of their meeting with the supervisors the sheriff's office was requesting the approval of a yearly stipend of $1,000 for K-9 handling. This is to compensate Deputy Shillington for time spent off duty for training and other related handling duties. This amount is the same amount that Wright and Webster County's pay their K-9 handler.
The supervisors approved the stipend unanimously. They say they are looking forward to the work that Deputy Shillington and Rooster will do in service to the county.
Feature photo courtesy of the Humboldt County Law Enforcement Center.