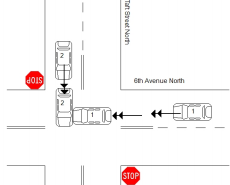 By: Donovan W. Mann – donovanm@977thebolt.com
Humboldt, IA – Possible minor injuries are suspected after a two vehicle incident in Humboldt on Friday.
Officer Erin Bennett of the Humboldt Police Department files the report on the incident. Her report says that on Friday, April 23, Carolyn Miller, 18, of Gilmore City was traveling west on 6th Avenue North approaching the intersection with Taft Street North. Mary Mulligan, 85, of Humboldt was traveling south on Taft St. and stopped at the two way stop but proceeded forward, not seeing Miller coming, resulting in a collision.
The incident resulted in severe damages to both Miller's bronze Chevrolet Impala and Mulligan's blue Chrysler CNC. Miller complained of some pain and was transported privately for further evaluation.