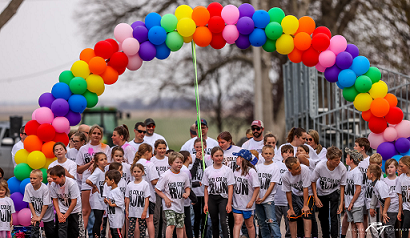 By: Donovan W. Mann – donovanm@977thebolt.com
Gilmore City, IA – the Gilmore City-Bradgate schools use a colorful event to help raise funds and bring a smile to the faces of those in their community.
On Friday, April 23, Gilmore City-Bradgate Elementary School and Childcare Center held their Third Annual Color Run. Along with the usual event and silent auction, this year also included a Senior Stroll.
Principal and Director of the Day Care Jessica Goodenow says the Senior Stroll had eight participants. The Color Run had 80 entries ranging from "babies to adults."
During the run there was a team of 25 volunteers spread out across their route to throw colorful powder at the runners and help with set up and clean up.
In total the school was able to raise $5,000 with both color run admittance and the silent auction. Some of the money raised will go towards their senior citizen dinner that is put on every year in December. The rest of the funds will go towards the daycare facility, summer programming and transportation for the children.
This was the third time GCB was able to put on their Color Run with last year's being cancelled. Goodenow says this event is "always a favorite" for their community. She says "any chance we can get to make people smile (and exercise), we will make a way to get that done."
The leadership at GCB Elementary spent the last several months getting the event ready. This includes gathering sponsorships. The teachers and staff also encouraged the students to gather their own pledges if they chose to run.
Goodenow says that they are glad to see the event return this year and the plan is to have it come back in the spring of 2022.
Featured photo courtesy of Rick Thompson.