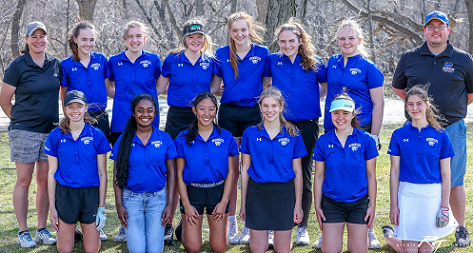 By: Donovan W. Mann – donovanm@977thebolt.com
Fort Dodge, IA – On Thursday, May 6, Humboldt High School girls' golf placed second in a triangular at the Fort Dodge Country Club.
The course par for a nine home game is 35 – four best scores per team making up their score.
Humboldt placed second as a team at 59 over par. Bishop Garrigan – Algona was the meet winners at 32 over. The hosts, Fort Dodge, finished third at 80.
Humboldt's Nora Carlson was the meet's medalist at five over par and the tie breaker over runner-up Kelly Baade from Bishop Garrigan, also +5.
Here is how the remaining Humboldt golfers played:
Noelle Hamand +17
Ashlee Wergeland +17
Tori Gargano +20
Aries Packard +21
Chloe Mayall +22
The next meet for the Humboldt girls' golf team will be the North Central Conference Tournament on Monday, May 10. It will be played at the Mason City Country Club. They are scheduled to tee off at 10 am.
Featured photo courtesy of Rick Thompson