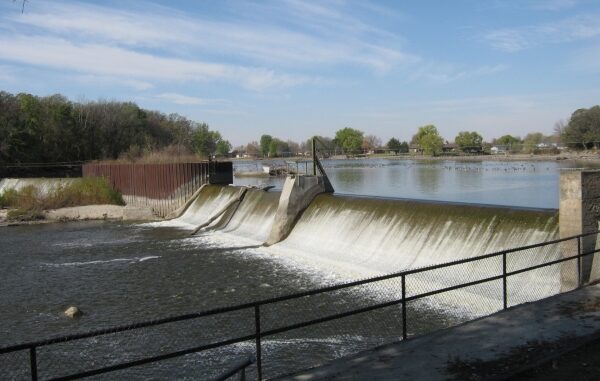 By: Donovan W. Mann – donovanm@977thebolt.com
Dakota City, IA – A local man is urging the county supervisors and conservation to think bigger when it comes to the future of Humboldt County recreation.
On Wednesday, May 5, during a joint meeting of the County's Conservation Board and Board of Supervisors they were joined by Bret Harklau. The joint meeting was held to discuss and narrow down options for the future of the Reasoner Dam and the Des Moines River in Humboldt.
Conservation Director Todd Lee says that they are getting to the part of the project where the price tag is going to become a focus. When the dam has been discussed in the past, this is where the discussion typically fade over cost concerns. The county has already bonded $500,000 specifically for this project that has gone unused.
Harklau spoke passionately about his desire to see the river and dam improved. He says the river is an "asset" for the county when it comes to recreational usage and quality of life. He says he is willing to use some of his own money to help do studies.
He presented an idea to both boards on what might be a good course of action. First is to remove the silt above the dam and then repair or replace the gate system so it can be opened and closed again. The plan also includes tiered rock arch rapids below the dam and "fish ladders" to allow fish to pass through.
Both boards motioned to move forward with further studies into three possible solutions for the dam, which was on the agenda for the evening. Stantec out of Des Moines has been working with the county on this project and they will continue to keep that partnership at this time.
Harklau did not stop with the dam, wanting to see improvements and enhancements to the county's bike trails as well. He quotes there currently being a large sum of COVID grant money available from the state for trails. One area he sites is near Thor where the Sno Skimmers used to have a trail and it could loop around with a current bike trail out there. He also says there are campgrounds out there that could easily be connected with the trail.
Harklau says he's talked with state politicians who've told him if the project is big enough they will back it for further funding opportunities. He and the two boards brainstormed the idea of connecting their bike trails with the trails coming from Webster County and Fort Dodge. He says these enhancements could make Humboldt "the place to be" in Iowa if they invest time into pursuing the funding opportunities.
The Board of Supervisors and Conservation Board were both interested in Harklau's ideas and thanked him for participating in the discussions.