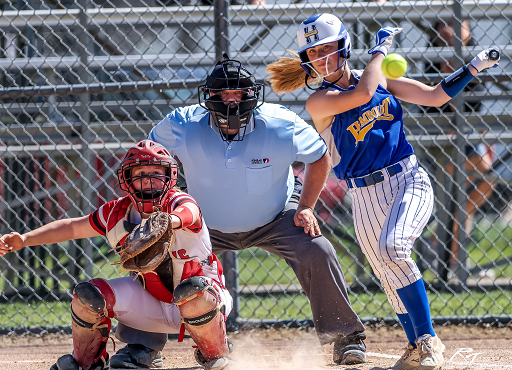 By: Donovan W. Mann – donovanm@977thebolt.com
Clarion, IA – On Monday, June 21, Humboldt softball topped Clarion-Goldfield-Dows 26-16 in five innings on the road.
The scoring started right away for Humboldt who got a lead-off home run from Kendal Clark in the top of the first inning. After two outs, Reagan Lee delivered the second Wildcats solo homer of the inning. Clarion-Goldfield-Dows got one back in the bottom of the first.
Humboldt scored eight in the top of the second. They sent 12 batters to the plate and recorded seven hits. CGD got half the runs back in the bottom of the second to make the score 10-5 after two innings.
The Wildcats stayed hot in the top of the third. They got six more runs on three hits, including a two RBI triple by Jori Hajek. Clarion matched the run total at six, only getting one hit in the inning.
With the 16-11 lead going into the fourth Humboldt was able to get a pair of runs off the bat of Elsie Hubbell. Clarion-Goldfield-Dows closed the gap, however, getting five runs in the bottom of the fourth to get within two (18-16).
Eight more runs came for Humboldt in the top of the fifth. Humboldt recorded five base hits in the inning, including a bases clearing triple by Alexis Hansen. Clarion go their lead-off batter aboard in the bottom of the fifth but she was erased on a double play before the final out was a strikeout. Humboldt forced the run rule (10 or more run lead after five innings) at 26-16.
Humboldt's starting pitcher was Elsie Hubbell. She went three innings, giving up 14 earned runs, 10 walks, three hits. She struck out three in her first career win as a pitcher.
Hubbell was 4-5 in her at bats with a total of four RBIs and she reached on an error once as well. Lee was 2-2 at the plate with three RBIs, two walks and was hit by a pitch.
A final stat report from Humboldt softball versus Clarion-Goldfield-Dows can be found on Varsity Bound.
The win snaps a seven game losing streak for Humboldt who is now 9-8 this season and 4-4 in the North Central Conference. Elsie Hubbell was named the Player of the Game by KHBT as part of the broadcast coverage.
The next game for the Wildcats will be Tuesday, June 22, at home against St. Edmond. Humboldt lost the first game of the series on Monday, June 14, 20-19.
First pitch is scheduled for 7:30 pm, following a JV game.
Featured photo courtesy of Rick Thompson.